Summary
On Monday, September 12, 2022, Apple released a software update for iOS. The CORUS Mobile app is not compatible with this upgrade.
If you are an iPhone user and upgrade to iOS 16, but don't change your notification settings, messages won't be visible within the CORUS Mobile app on your phone.  You will encounter a blank screen. To view your messages, you'll have to go to https://jh.teamcorus.com.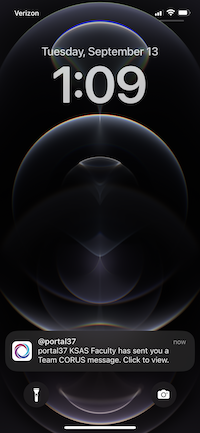 Action Required
Before you upgrade to iOS 16, please take the following actions to ensure no disruption in viewing your CORUS messages
Go to myProfile within myJH
Scroll to the Cell Phone section:

Enter your mobile number and carrier (if missing)
Validate your mobile number through the on-screen prompts (if needed)
Check the box to the left of Receive CORUS messages
Click the circle to the left of Make this your Preferred Mobile Device

Within the Team CORUS Mobile section:

Set current status to Off
Verify that Team CORUS Mobile is no longer your preferred mobile device

Scroll to the bottom of the page and click Save myProfile
Delete the Team CORUS Mobile app from your phone
FAQ
Q: Is CORUS going away?
A: While there is no immediate timeline for the shut down of CORUS, the mobile app is going away. Health IT and and the Technology Innovation Center are working together to transition CORUS channels and consults to Epic Secure Chat opt-in groups. This work in ongoing and will continue to ensure continuity of clinical operations.
Q: What does this mean?
A: We want to ensure you're able to view your CORUS messages in a timely manner. While you will still receive a push notification in iOS 16 alerting you to a new message, when you tap this, you will encounter a blank screen if you take no further action. To preempt this, we're asking you to switch to text messaging for new message notification.
Q: When will there be a fix?
A: There won't be a fix. In 2020, Hopkins made the intentional shift to Epic Secure Chat as the standard for clinical communications at the institution. As we continue to transition operational workflows into Epic, we have made the choice to retire the mobile app component of CORUS.
Q: What about critical alerts and workflows?
A: We anticipate no disruption. Certain response teams, such as our Heart Attack Teams will still receive "at-a-glance" information without the need to open CORUS for full message contents.
Q: Are there any advantages to text message versus push notification?
A: Yes. When you receive text message alerts, your phone can function more like a pager for CORUS messages. This article discusses how to override silent or do not disturb modes.
Help
For additional questions or support, please contact info@teamcorus.com.